Jan 03 2014
The weather reports promised an onslought of snow, Thursday night into Friday.
Although it sounds like it hit hard up north, those of us in the Washington Metropolitan Area got off lightly.
Through the dining room windows.
We woke up to a beautiful morning, white snow and vivid blue skies. I didn't have to go far for a nice photo, in fact, just out the kitchen window.
Snow with sun. Reminds me of Colorado.
And, while I waited for the coffee to brew, I was able to make my "Photo of the Day" using the iPhone app "Collect," that I dearly love. BlogHer Laurel Regan shared it on Twitter and I have been mesmerized by the ease of taking a fun photo everyday. A diary in a second, so to speak. Then each day is added to a calender for the month and saved, I guess, forever. And, ever? That Laurel sure is on top of things.
Love the Collect App. Saving a record of
each day for my Presidential Library.
It was energizing. So much so, I was motivated to make an improvement on our living space. But, fixing up the house in some way sounded like WORK, so we decided to fix up a smaller project. The bird restaurant in the backyard was due for a redo.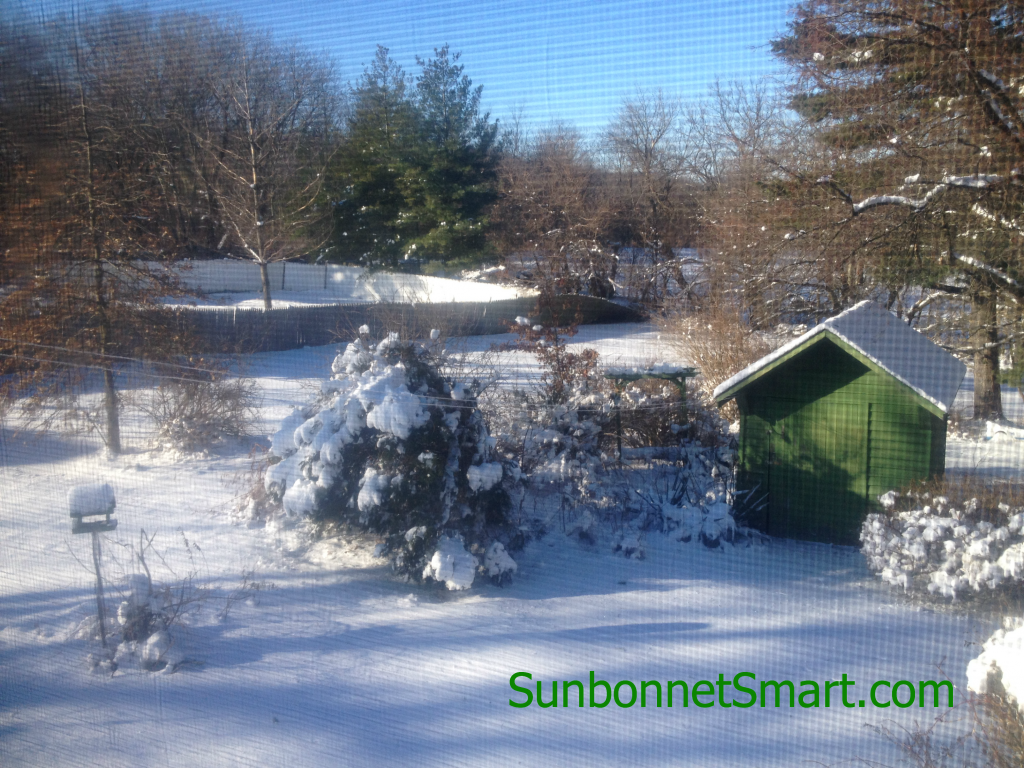 Our old feeder, squirreled to unuseability.
After the usual discussions of whether to fix up or replace, we decided to replace. But, that was probably influenced by our neighborhood ACE Hardware having a sale on the "Squirrel-Be-Gone Bird Feeder" from PerkyPet.com that caught our eye last week. Such a cute feeder, like a little red barn with a "Whoopsie" bar for squirrels, should they shinny up the metal pole.
The Perky Pet Feeder
Isn't it CUTE? The roof comes off after the weathervane is turned to release it. And, it's powder coated so cleaning with a damp cloth, every two weeks the directions say, will maintain its shiny barn-like finish.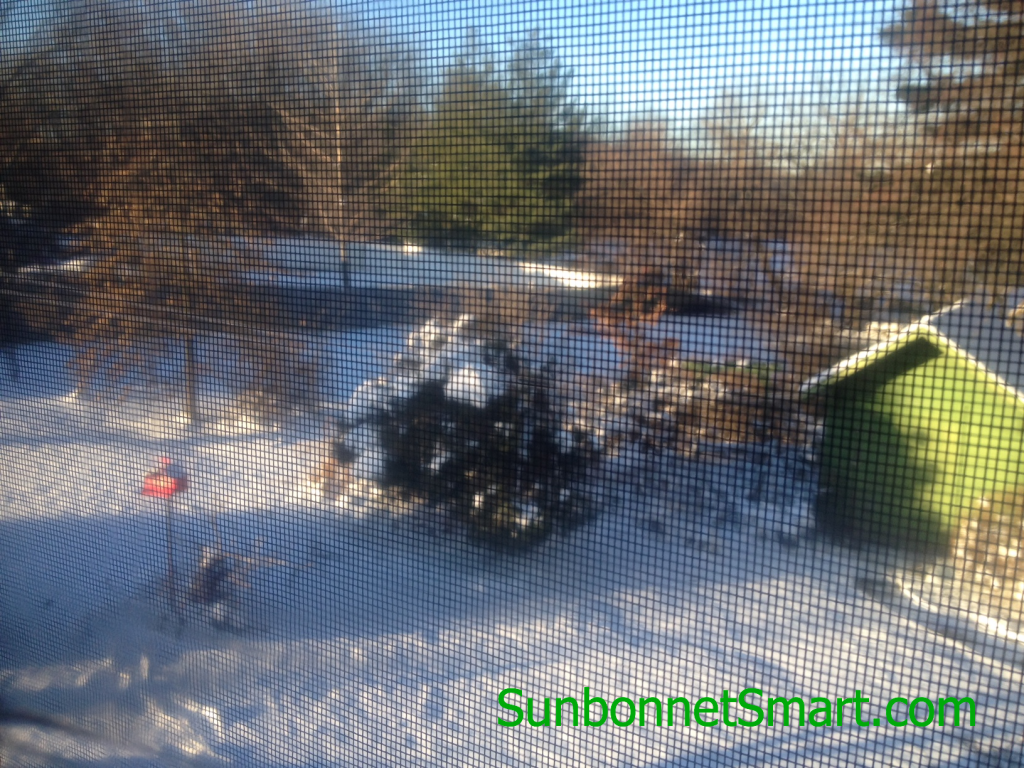 Well, thar she blows!
Perfect viewing distance from the house. I hope my birdie friends will be pleased with the new addition. Having a nice clean feeder will help me with my bird counts when I start up with the Cornell Ornithology Feeder Watch, counting birds coming and going in their migration patterns.
So, check in block for Friday, January 3, 2014. We did something in addition to complaining about the cold. 🙂

 SunbonnetSmart.com is authored by a little bird who loves to lure unsuspecting BlogHer bloggers to her web site, daily newspaper,
The SunbonnetSmart.com NewsFlash, and Facebook Fan Page
Tags:
bird seed
,
bird watching
,
Cornell Ornithology
,
out of doors
,
snow days
,
song birds
,
squirrels
,
winter fun
Filed under:
Beauty
,
Outside
— admin @ 4:40 pm
Comments (1)
One response to "Today was for the Birds"