Nov 09 2012
I absolutely love tomatoes. I love growing and eating them.
There is nothing that says "summer" to me more than tomato plants growing in the backyard, well, except maybe going to the beach, but that's another story.
I got my love of growing tomatoes from Punch 'n Gro kits when I was a kid. They were handy little planters of vermiculite filled plastic trays. The directions explained to punch a pencil point through the plastic wells, water and turn the clear plastic top over to make a little greenhouse. Punch 'n Gro had the tomato seeds in the vermiculite, under the wells of the inverted lid, so if I followed the simple directions, I got plants. Yippee!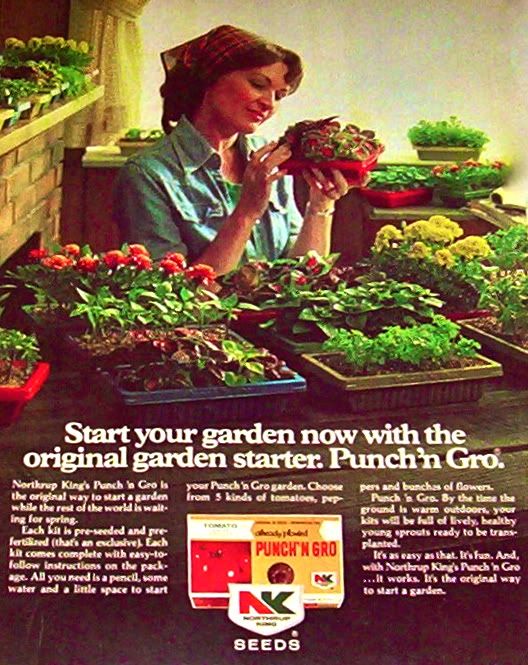 A Punch 'n Gro ad from the late 1970s.
I didn't know the strategy of planting tomato plants back then. Like, for instance, now, I always am sure to plant them in organic soil three days before the full moon in February; I use temperature controlled heat mats and Bio-domes table greenhouses. I always transplant them three times, lowering the plant in the soil each time so the stem produces more roots. No, back them, things were simple. Whenever my Dad bought me a Punch 'n Gro, I would punch it and grow it, and plant the plants in the garden.
But, now, no matter how my tomato garden happens, whether I start them from seed or buy a more exotic heirloom tomato plant from the nursery, the whole experience, start to finish, brings me a great deal of joy.

August tomatoes sunning themselves by the window.
So, after waiting all summer for the tomato plants to grow, set flowers and ripen fruits, we get to harvest. A bountiful harvest is soon followed, within the hour, by the world's best tomato sandwiches.
Oh! They are so good. Organic Ezekiel Bread, which is a sprouted wheat, flour-less bread and organic mayonnaise, along with sliced tomatoes and Real Salt. For those who insist, and I do, some coarse grind pepper is a luscious addition.

I am uncontrollable around tomato sandwiches.
And I bet you think I'm sad because I can't have a tomato sandwich right now, but Ha! You'd be wrong. I still have tomatoes from the garden and I can eat a tomato sandwich tonight with all of the trimmings, while you probably can't. Sucks being you, unless you live near Whole Foods.  🙂
Addendum after pointed Comments by close friends: OK. OK. There ARE other places to get heirloom tomatoes for a tomato sandwich this time of year besides Whole Foods and me. FatCat orders them and Laine shops at wonderful Wegman's. That does limit my greedy, self-centered pleasure somewhat, but I'll try to get over it.
Life is good. Lip smacking, tomato sandwich in November good.


If you are interested in tomato secrets, I encourage you to purchase this crazy e-book about a family of generational tomato growers.
It's full of great hints. I bought it in 2008 and have greatly increased my yield.
And! It's time to think about ordering heirloom tomato seeds.
Filed under:
Food
,
Veg Garden
— admin @ 3:29 pm
Comments (0)