Nov 02 2012
An investigative tribute to the unseen journalists on BlogHer.com, part I.
Unseen? No, actually they're in plain sight. Perhaps I should say they are "partially unrecognized." I just didn't understand how powerful the BlogHer community is when it comes to professional journalists. I bet many BlogHer fans have no idea of the years of experience combined within our ranks by these top line professionals. They put their smiling faces out to greet us as fellow BlogHers, rather than point to their walls full of credentials while handing out their heavy CV's.
And I, as a women, tend to see other women as approachable mother, sister, daughter figures, not intentionally meaning disrespect, but assuming a strong comradeship, an unwritten entrée to chat and become "drinking buddies." I mean, I know I would not as easily go up to and talk with powerful male journalists the way I did with the powerful women at BlogHer '12.
One reason these high powered women seem approachable is BlogHer has done a great job of presenting an even handed playing field. All participants may shine based on their performance on BlogHer alone, whether a first time poster or seasoned professional. I have come to believe that unless one's Spidey sense is turned on to rout them out like a truffle pig, many of these high powered woman journalists, these Lois Lanes, go unrecognized for who and what they really are. Take good ol' Stacy Morrison for instance, BlogHer's Editor-in-Chief, who is always ready for a smile and a hug.
Initially, I had raised eyebrows when Stacy Morrison came on board to BlogHer's top editorial position in December of 2011. Who WAS this woman selected to command such a position? It was natural to take note of her credentials, because after all, I had been on BlogHer for almost two weeks and I needed to make sure she measured up.
Reading BlogHer Co-Founder Lisa Stone's introduction set me straight. I quickly learned Stacy was the Editor-in-Chief of Redbook magazine, a polished periodical known for its literary articles and style http://www.redbookmag.com"Wow," I thought, "Editor-in-Chief at Redbook. Wow."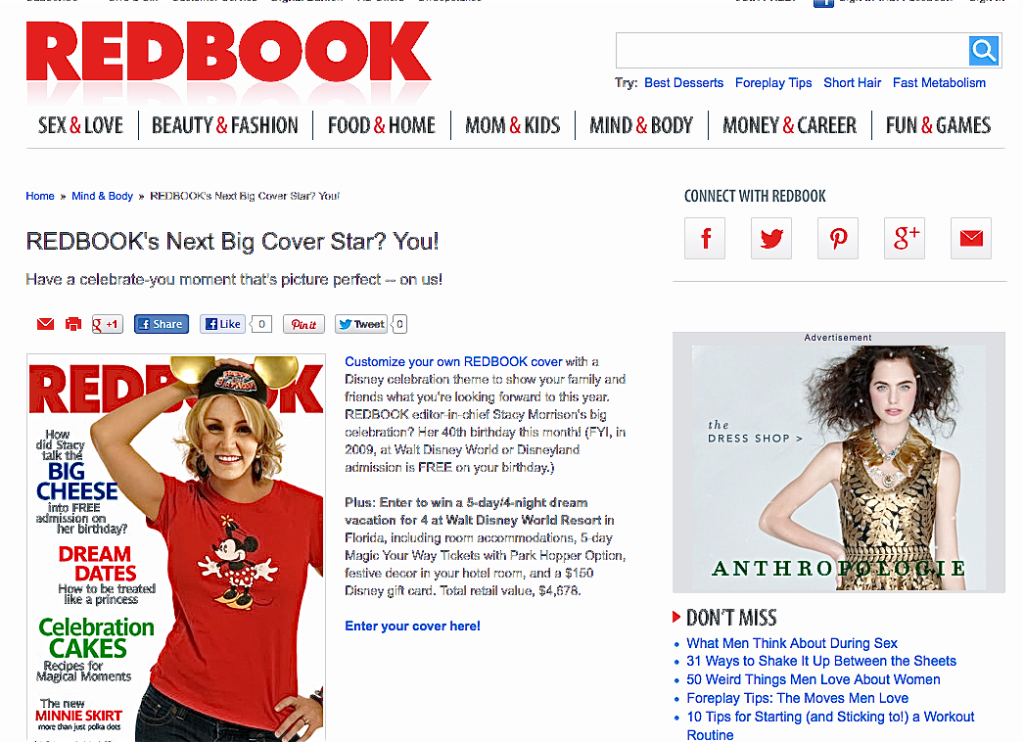 Stacy on the cover of Redbook
But, no, that was not all. In March, 2010, while she was still Editor-in-Chief at Redbook, her book on remaining optimistic throughout a divorce was published titled, "Falling Apart In One Piece by Stacy Morrison, editor-in-chief ofRedbook. Rereading this post by Lisa Stone introducing the book to BlogHers, I was captured by Stacy's writing style and depth of warmth:

"I stumbled across these lessons like so many river stones tossed on the shore, quieting thoughts coughed up out of the endless roil and thunder that filled my head in those two dark years. I picked them up and played with them in my mind, the way a hand will worry coins in a pocket. They gave me comfort, even though they weren't the answers I thought I wanted, and the lessons weren't always easy. Like the time I found myself lying on my kitchen floor for the fourth or fifth time, crying away another night, and I realized that even though I had so many people in my life who wanted to help me, no army of friends was going to be able to meet me here in my alone. 
But as the weeks, and then, the months unfolded, it slowly dawned on me that I didn't need an army, even though I often felt my friends and strangers and our whole entire culture urging me to make divorce the ultimate battle. What I wanted on the other side of all this pain wasn't to win, to be "right," or even just to be able to claim the cruddy consolation prize of being the one who was "wronged." 
What I wanted was peace. 
I decided the only way to rebuild was to start to understand who I really was, to love and forgive myself my failures, to move beyond all the dashed dreams to trust myself again. To dare to imagine who I might be on the other side of all this. To hold my best idea of myself in my mind's eye and walk toward her, instead of being distracted by the anger and hurt that threatened to take root in my soul and scar it forever. 
And that has been the journey of a lifetime: to decide who I am and who I've been and who I want to be, and to do all of that with compassion, both for myself and for my ex.
Five years later, I can honestly say that my divorce is the best thing that ever happened to me. Because I am at peace, and not just with my divorce. With myself."
Stacy's book at Amazon.com
As Lisa Stone observes, "Who but an optimist would propose that this is what divorce has to offer?"
See? Isn't Stacy's writing beautifully compelling? She's a powerhouse. No wonder I feel well mentored by her and the other BlogHer Lois Lanes.
To get to know Stacy better, enjoy watching her in this interview post by Lisa Stone.
 Tomorrow: BlogHer's Lois Lanes at BlogHer '12
Filed under:
Growth
,
Head
— admin @ 3:55 pm
Comments (0)