Nov 15 2012
My Dad lived alone for many years, and was very independent in his nature, which intensified as he aged.
Eventually, we all lived together, yet he retain his independent habits for as long as he possibly could. He didn't like to be bothered by the physical constraints of life, such as eating, as it was inconvenient. He had places to go and things he wanted to do. So, after cooking for himself for years, he had devised a system.
When he went out, and knew he'd be gone long enough to need a meal, he didn't want the fuss of sitting down to eat at a restaurant. He would bake a couple of russet potatoes, wrap them in foil, put them in his pockets and head downtown to take the Metro subway to parts unknown, completely self sufficient. This went on for years. It was amusing, and yet, one didn't dare kid him about it, too much.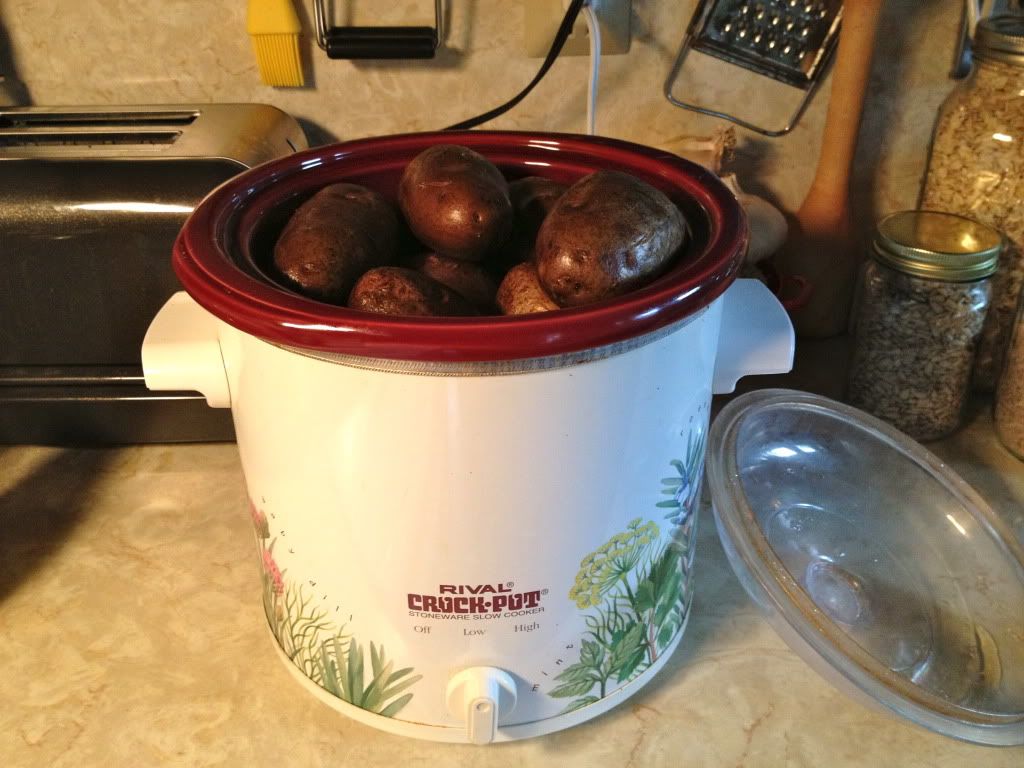 Baked Potatoes give love and sustenance.
I happened on him in the kitchen, working his potatoes, one evening. He was firing up the large oven in the range, rather than the toaster oven, because, "as anyone knows" the toaster oven didn't do as good a job. He was a specialist, and his baked potatoes deserved the best. After all, they were his lifeline and he oversaw their production with the trained eye of an experienced professional.
So there they were, his two little baked potatoes sitting in a cavernous oven space, heating at 375 degrees for all they were worth for whatever time he would decide was enough. Thermometers and satellites were hooking up all over the world to record this latest burst of global warming, but his eye was on the prize.
Then came the cooling process. Taking a cookie cooling rack, the potatoes were grabbed with tongs and placed in parallel array on the rack to cool overnight. Yes. All of this prep work had to be done the day before his excursion, because the potatoes would have to cool before they could be put in his pockets.
Catching him the next morning, he was very gracious, as he'd explain the baking process, once again, and offer a bite. Having cooled, the potatoes would now be wrapped in foil. Gingerly he'd peel down a corner and offer it, as if I'd never tasted a baked potato in my life.
I'd accept, commenting on how delicious it was, which caused me to go down a slippery slope, because then, since I liked it, he'd want to give me one of the two, cherished baked potatoes that he'd prepared for himself. It was a tender game we played, he and I. One I now, fondly recall. One where I would tell him, no thank you, that it was way too early for a whole baked potato.
So, the years have gone by. And the crazy "goings on" of my Dad as an older person, set in his ways, has become a memory as cherished as once were his beloved baked potatoes.
Which is what brings us to Pinterest.com
What? Pinterest?
Why not. All roads lead to or from Pinterest and this post does as well.
This "Potatoes on the Go!" post you're reading relates, in particularly, to a certain Pin showing the baking of russet baking potatoes in a crockpot rather than in an oven, relating back to an original web site entry by Finding Joy in My Kitchen. If you'd missed reading this post today, you might have wondered why I react with a great deal of emotion when looking at that particlular Pinterest Pin, but now you'll forever be informed.
The idea of heating up russet potatoes in a crock pot overnight after rubbing them in coconut oil, without toxic foil and then cooking them in an ecologically friendly manner, is just too much for me and I get misty eyed. What advances there have been in state-of-the-art "potatoes on the go."
So every now and then, when my husband comes running downstairs to go out the front door on his way to work with no time to eat, I hand him two baked potatoes, wrapped in parchment paper then in foil, to put in his pockets on his way out to the car. As I watch him drive off, I know my Dad would be proud I'm carrying on the family tradition.
Tonight, I'm loving the memories of baked potatoes.
Filed under:
Family
,
Heart
— admin @ 2:46 pm
Comments (0)