Mar 03 2013
Priscilla Judd has a vision. She is determined to inform the world it's taken a wrong turn.
A piano tuner by trade, she has an ear for harmonics that easily translates over to her music. As a piano tuner, Priscilla uses a tuning fork to begin the calibration or tuning of each note on the keyboard. First she tunes the center octave of eight notes. The rest of the notes are tuned in line with the first octave. Using damping felts to isolate strings so each tone may be heard in its pure state, Priscilla builds the scales represented by the black and white keys. Tuning a piano proficiently takes lots of practice. In command of an exacting science, Priscilla has trained her senses to be accurate and precise.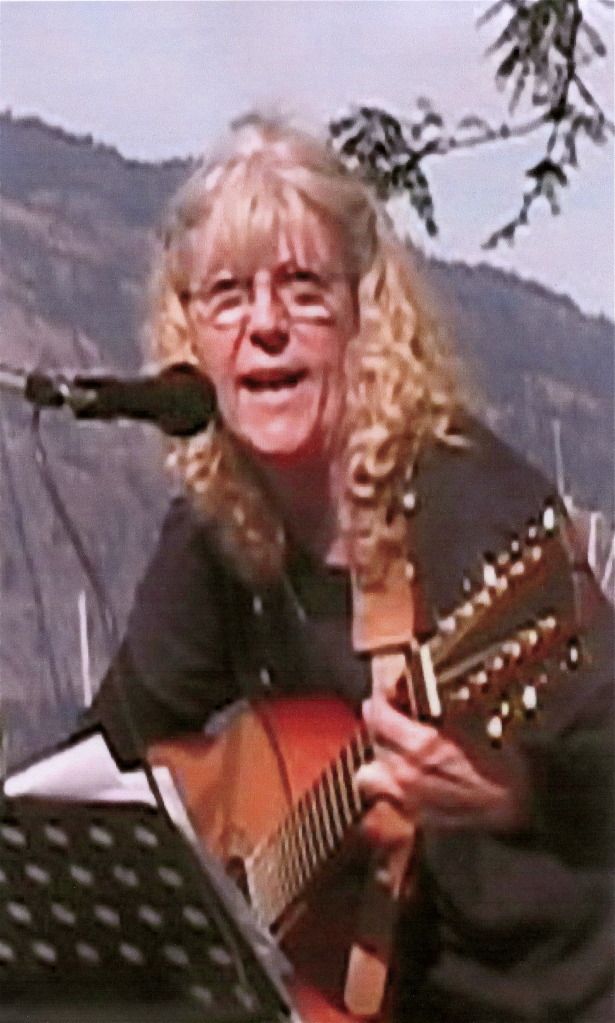 Priscilla Sings to Bring About Change
And so, Priscilla is observant of the world as it really exists. She doesn't necessarily like what she sees. She espouses what is good for people and Mother Earth may not be what is practiced by multinational corporations with higher yearly incomes than the gross national product, GNP, of some countries. She has widened her musical talents toward playing guitar and singing her original compositions to protest what she feels are dangerous trends.
O Canada – Who For A Lost Democracy
Visit with Priscilla on her web site where she shares her passions. She writes, "I suppose you've noticed that planet Earth is under seige? Our environment is threatened everywhere on this planet.  Sadly, human life and nature are not the most important factor when it comes to decisions made by Governments.  Democracy is threatened by corporatism – the neo-liberal or neo-conservate agenda. So, I'm an activist. I walk out and protest. I sing about wild salmon, climate change, pipelines and tankers, local food and farming, GMO, pesticide and First Nations issues.  I sing in praise of nature and heroes who stand for nature and social justice."
If you are reading this post on Sunday, March 3, 2013, you have a wonderful opportunity before you. Priscilla's song, the YouTube above titled O Canada – Who For a Lost Democracy, is in CBC's Best New Artist Contest. As the contest site says, "Join our search for Canada's best new artist. Vote for your favorite act, right now! Round two polls close Sunday, Mar. 3, 2013 at midnight ET. Check back Monday at 9pm ET for round three of voting."
As of this writing, Priscilla is fourth from being #1 in the Second Round of voting. Take a moment and vote to get her in Round Three!
Round Two ends Sunday, March 3, 2013.


March 2013
Join SunbonnetSmart.com
for a post every day
here and/or on BlogHer.com
Tags:
Bob Dylan
,
folk songs
,
Peter Paul and Mary
,
protests
,
singing
,
social commentary
Filed under:
Head
,
Uncategorized
,
Vision
— admin @ 9:47 pm
Comments (0)