Nov 26 2012
Traditional foods provide traditional health, the robust health carrying our human species down through the millennia.

When one is aware of their body and the preventative health measures the body can perform when it's in working order, food as medicine becomes a profound concept. Every bite must be nutrient dense, full of building blocks to create and maintain the immune system that fights our microscopic battles. Every bite must provide vitamins and minerals so that metabolic cycles are able to finish their work manufacturing muscle, nerve, bone, connective and circulatory tissues. And, let's not forget brain function. Every nerve in the central and autonomic nervous systems must be nutrient fed to function properly.
So, following the www.WestonAPrice.org food guidelines, even desserts can be nutrient dense. A great example is this gingerbread made with blackstrap molasses, a sweetener full of iron and other vitamins and minerals. This is the type of food served in Williamsburg, VA and in colonial America. This is the food served throughout the Civil War and up into the late 19th century when industrialization evolved from the improving of manufactured products into a movement to improve nature.
Rather than just mechanizing the labor required to grow agricultural products, chemists also tried to increase crop yield by implementing chemical growth products and pesticides. In the long run, these chemicals have lessened crop output.
In addition, monoculture, or the growing of one crop over immense acreage without a rotation of crops to replenish the soil, has had disastrous consequences. Far from improving food output, our quality of life is severely threatened due to these short sighted practices. Building up the land in an organic, sustainable manner is truly the only option for feeding the world.
Meet Joel Salatin, the leader in sustainable agriculture.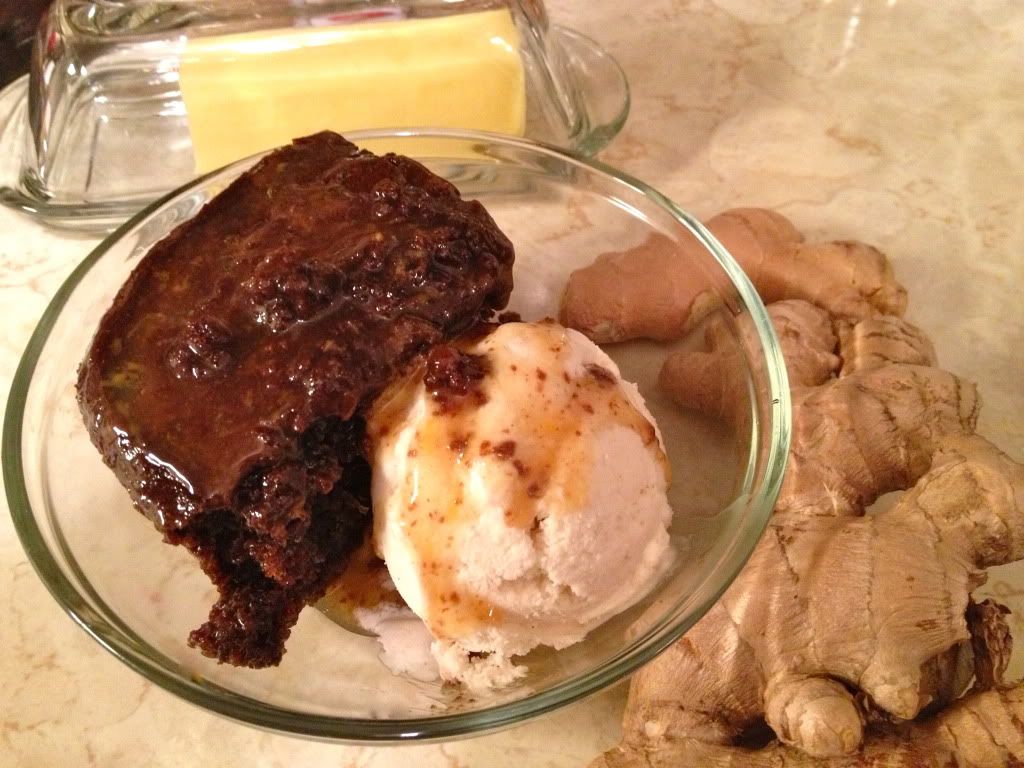 Blackstrap Gingerbread, all ingredients organic
2 1/2 cups sifted unbleached white flour
1/2 cup sugar
1 teaspoon baking soda
1/2 teaspoon salt
1 teaspoon ground cinnamon
1 1/2 teaspoons ground ginger
1/4 teaspoon ground cloves
2 large eggs
1 cup buttermilk
3/4 cup blackstrap molasses
1/3 cup olive oil
Grease 8x8x2″ baking pan.
Preheat oven to 350 degrees F.
Sift flour, sugar, baking soda, salt, cinnamon, ginger, and cloves into a large bowl.  Beat eggs in a medium size bowl until frothy.
Stir in buttermilk, molasses and oil, mixing well.
Stir liquid ingredients into dry ingredients, mixing well.
Pour into prepared pan.
Bake in oven for 50 minutes or so, or until top springs back when pressed.
Cool in pan on wire rack.
Prick top with fork and pour on lemon sauce, stopping when pan is full, using rest for topping when serving.
Serve warm with Lemon Sauce.
Lemon Sauce
1/2 cup sugar
1 tablespoon cornstarch
1/8 teaspoon salt
1 cup boiling water
2 tablespoons butter
1 teaspoon grated fresh lemon rind
3 tablespoons lemon juice
Combine sugar, cornstarch and salt in a small saucepan, mixing well.
Stir in boiling water and bring to boil again, stirring constantly.
Lower heat and simmer, stirring, until sauce is thickened and clear.
Stir in butter, lemon rind and juice.
Pour over warm Blackstrap Gingerbread.
And, this spoonful of sugar makes the medicine go down.  🙂
Filed under:
Food
,
Recipes
— admin @ 2:57 pm
Comments (0)